STAFF
TALENT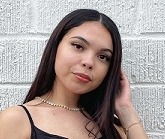 Victoria
Stylist
Hello my name is Victoria.
I'm an upcoming stylist who is very passionate about making people feel the best versions of themself. I love to do major color transformations, styling hair, and so much more. I'm very knowledgeable on working with all types of hair textures. I enjoy being able to make a difference in the beauty industry. My services I offer are hair, nails, and I'm working on my lash services.
I'm the oldest of 7 and outside of work I love to cook, travel, learn new languages, and enjoy spending time with my family and friends.